This week's healthy vegetarian meal plan includes spicy vegan black bean burgers, a caprese frittata, one-pot zucchini noodle pasta, lentil kale salad, and chickpea fajitas. Get ready for a tasty week!

<<Quick announcement! For those of who you follow me on Twitter, just a heads up – I switched my twitter handle to @TheRoastedRoot. Don't ask me why it hasn't always been @TheRoastedRoot and why it's been @RoastedRootFood for almost 5 years… key is, I made the change so if you want to tweet at your girl, you can now find me @TheRoastedRoot.>>
<<End announcement.>>
Well, I have good news and bad news. Which one do you want first? Which one? The good? The bad? The ugly? Let's start with the good.
Good news is, this is Week 3 of our vegetarian meal plan experience, and the ladies and I have some delectable healthy eats that are all things seasonal, simple-to-prepare and healthy for your bikini bod.
The bad news is, all of the recipes require heating element. It's true, we're asking you to cook in spite of the suuuuuuper toasty weather. Sorry about that…I do think you'll love this week's menu, though! So turn on the AC, whip up a big batch of the Peach Bourbon Slush I was yapping at you about the other day, and get to food planning!
Have a great weekend!
…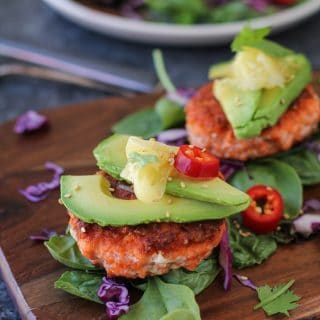 By Julia 5 Comments
Asian salmon burgers with fresh ginger, garlic, and liquid aminos. Top the burgers with pickled ginger,…