By Julia 18 Comments
These Cranberry Orange Scones are gluten-free, naturally sweetened, and dairy-free, making them a healthful breakfast or snack!
I have a sweet lil surprise for you today! Annie, Holly, and Chelsea Forsyth (who write the blog, Natural Sweet Recipes) wrote a cookbook called Everything Naturally Sugar-Free. It's packed with 300 recipes that are – you guessed it! – naturally sweet!  I've been buds with the sisters for as long as I've been a blogger. It was because of them that I bought my first bag of coconut sugar and realized you really can make anything and everything without processed sugars.
Because I'm all about healthy desserts, I asked the girls if I could share a recipe from their book with you. Being the lil' darlings they are, they gave me the go-ahead, and you guys, I'm so glad they did, because these scones are marvelous!
…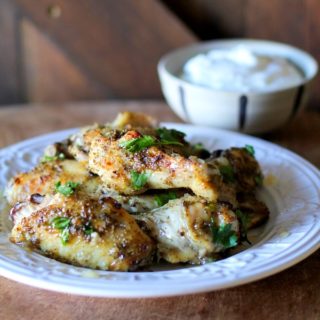 By Julia 9 Comments
Easy 3-ingredient healthy chicken wings with herbs and honey! Make these for game day! Did I…